Uniform
Purbrook Park has high standards of education and dress. We are rigorous in upholding the school uniform, and it is expected that pupils wear it well, and with pride. This includes to and from school, and on visits and excursions.
The information below outlines our uniform expectations for all pupils.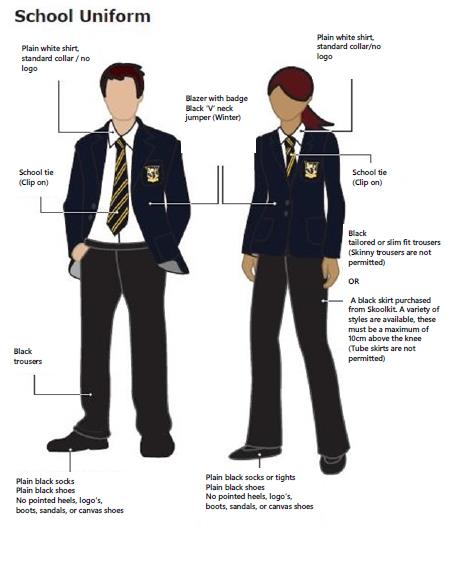 Our governing body is mindful of the need to respect religious faiths, and therefore appropriate religious dress may be allowed.
Our pupils are expected to wear blazers at all times unless given permission to remove them. Pupils who persistently fail to meet our uniform expectations will be placed on report or given detentions.
From the 1st May until the end of the summer term, pupils are permitted to wear senior unisex day shorts purchased from Skoolkit.
Skirts
In negotiation with Skoolkit our uniform supplier, we have updated and amended the choice of black school skirts that will now be available. The new selection offers a range of styles and fits including one with an adjustable waist. The skirts are to be a maximum of 10cm above the knee. No other styles will be permitted.

Hair
Hairstyles must not be unusual, for example excessively short ( grade 2 minimum), tram line, zig-zag, dip dyed or dyed unnatural colours. Braiding is allowed provided that no beads are attached. Hair accessories are not permitted, unless they are simple and understated.
Jewellery
Pupils may choose to wear a watch and one pair of plain silver or gold stud earrings in the lower ear lobe. Spacers, stretchers, or retainers will not be permitted. No other jewellery, body piercings (including retainers), or make up is permitted. No false nails or nail polish are allowed. All other jewellery will be confiscated.
---
PE Kit
We expect our pupils to adhere to our high standards of dress in their PE lessons. Our pupils are expected to wear Purbrook Park labelled attire in their lessons and dress as per the image below.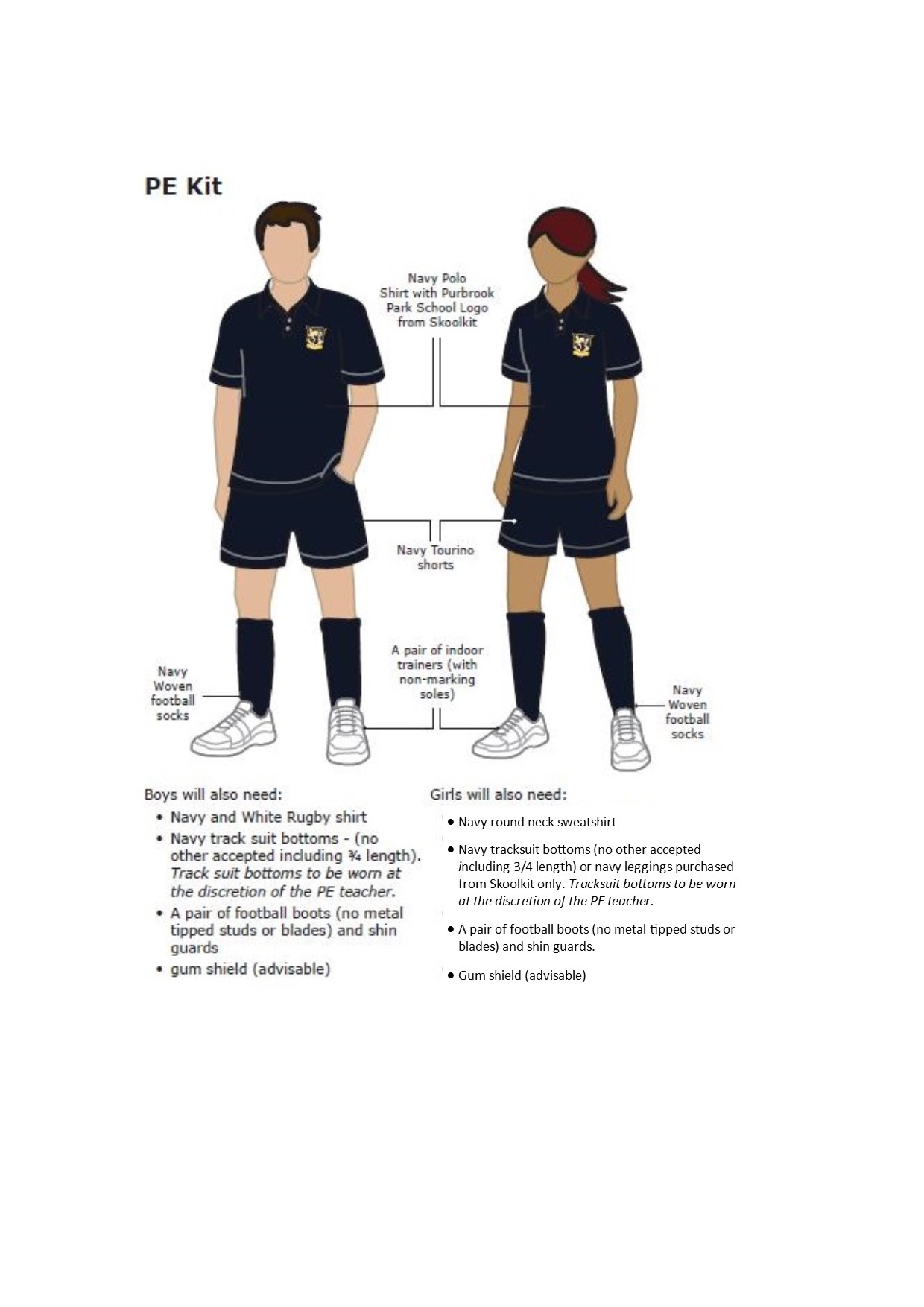 Personal Equipment
It is expected that pupils are well equipped every day. Our pupils are expected to have pens, pencils, pencil crayons, rubber, ruler, calculator and a suitable bag to take several A4 books to and from school. Pupils must not bring small 'handbags' into school.
Mobile phones and electronic devices
We have the responsibility to educate our young people with regard to appropriate use of new technologies. The use of mobile phones, MP3 players or other similar electronic devices including the use of headphones is not acceptable in school. These devices and headphones must not be visible or used during the school day including break or lunch. If pupils bring these devices into school they must be switched off and in kept in their school bag or locker at all times.
If a pupil is seen with, or is caught using, one of the devices they will have it confiscated and it will be taken to the Pastoral Hub. If the confiscation is a first offence the item will be returned to the pupil the same day. Any subsequent confiscation will result in the parent being required to collect the item.
If you have any questions regarding our School Uniform or Personal Equipment expectations please do not hesitate to contact your child's House Leader in school.
Many thanks for your support.