Rights Respecting School Award (RRSA)
We are pleased to announce we have received our
Recognition of Commitment (ROC)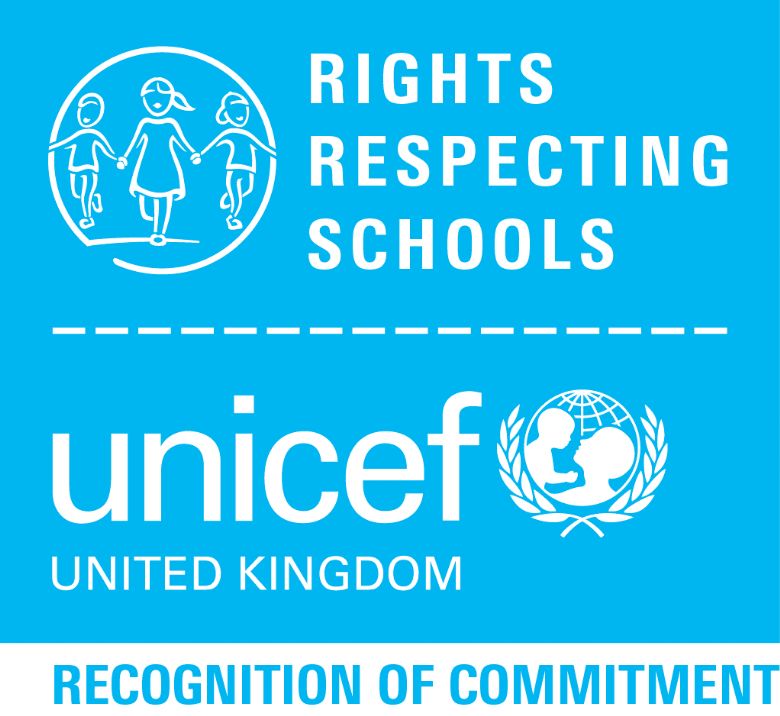 The RRSA award scheme started in 2004 and is running in more than 1000 primary and secondary schools in England, Wales, Scotland and Northern Ireland.
One of the greatest challenges that schools face is to define a clear set of values – not just rules - that have been developed with the full involvement of the school community and is actively upheld by pupils. UNICEF UK's RRSA initiative helps schools to use the United Nations Convention on the Rights of the Child (UNCRC) as the values framework that enables this to be achieved.
A values framework for schools
The RRSA provides a coherent values framework which enhances school leadership. It shapes the ethos of the school and unifies what can often be seen as a range of disparate educational initiatives and government priorities in all UK jurisdictions; the global dimension, SEAL (social and emotional aspects of learning), sustainable development, and community cohesion. Pupils develop a stronger sense of the need to act for global justice. The universality of the UNCRC provides a clear link between building up their rights respecting school and the need for children's rights to be realised everywhere.
What are the benefits?
Evidence gathered from schools participating in the RRSA suggest that when the values of the UNCRC underpin the ethos and curriculum of a school, they have a significant, positive impact on important aspects of child well-being and school improvement. They also have a positive effect on the relationships, teaching approaches, attitudes and behaviour of everyone involved. Teachers, children and parents have reported:
Improved pupil self-esteem Pupils' enhanced moral development
Improved behaviour and relationships(reductions in bullying, exclusions and improved attendance)
More positive attitudes towards diversity in society and the reduction of prejudice
Pupils' development as global citizens
Overall school improvement (including learning environment and academic standards)
Enhanced job satisfaction for teachers
What do we hope the RRSA will bring to Purbook Park School?
We believe the RRSA will embody the work done by Pupil Voice and will develop alongside our PDL programme, curriculum lessons and Advanced Learning Days. It will involve the development the existing school rules and systems and develop as a mutually beneficial approach to learning for both staff and pupils.