GCSE Results 2021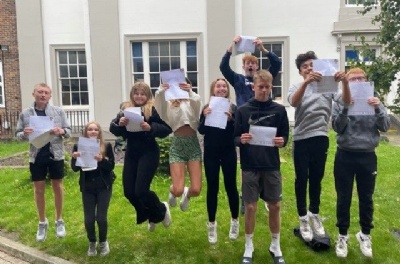 Pupils celebrate outstanding GCSE results!
We are exceptionally proud of all of our Year 11 pupils. The last two years have been incredibly challenging for them, and they rose to the challenge remarkably. As a Year group their results are stunning.
66% of pupils achieved a grade 5 and above in both Maths and English, with 79% of pupils achieving a grade 4 or above. Their Attainment 8 Score was 54.57 meaning that the average grade in the whole year group was well above a grade 5.
We are so pleased to report some outstanding achievements by our pupils in their GCSEs and other qualifications this summer:
Sophie Black achieved grade 9 in all subjects including both Art and Photography. Sophie said,
"I am very happy with my results. It was totally worth all of the effort. WOW, I'm lost for words, and I am rubbish at quotes…."
Tianni Chapman achieved six grade 9s and three grade 8s. Her grade 9s included Sociology and Drama. Tianna said,
"I honestly can't believe it. I worked really hard despite being off so much due to COVID. I'm just so proud of everyone…. Thank you so much Mr Middleton & Mrs Goodchild, I literally could not have done this without you..."
Alex Knight achieved eight grade 9s and one grade 8. Her grade 9s included both English Literature and Language as well as Music. Alex said,
"I'm really proud of everything I've achieved, it was a difficult couple of years, but I am really pleased with my results….. A massive thank you to all my teachers…"
This year, following the cancellation of exams, grades were awarded through a process of teacher assessed grades, against a national standard and approved and awarded by the exam boards. The government is not publishing performance data for any schools or colleges this year due to the varying impact of the pandemic.
Paul Foxley, our headteacher, said: "We are immensely proud of all the work and achievements of our pupils, especially after such a difficult and disrupted year. Our teachers have worked tirelessly to ensure pupils are all able to progress onto further education and study, and we look forward to seeing what they will achieve in the future."