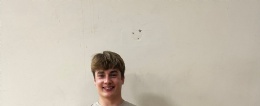 GCSE Results 2023
Published 24/08/23
Well done to all our Year 11 pupils! After another challenging year, our wonderful pupils have achieved some excellent GCSE results!
To quote four of our outstanding pupils:
Calum said, "I feel really great about my results. I've worked really hard, and I'm excited that I can use these for my A-levels next year. Thank you to all my teachers."
Ellie said, "Thank Goodness! I've worked hard for these, and I'm really pleased with my results."
Josh said, "I'm really proud of my results - thank you Purbrook Park."
Morgan, our Head Boy, (shown above), upon discovering his seven grade 9s, two grade 8s, one grade 7, and a Distinction Star (the highest grade possible) in BTEC Sport, said, "Yeah, they're alright!"
It was brilliant to see so many of our pupils, parents and colleagues celebrating together in school today.
We are proud of every one of you!
Read More